Previous page


Tuesday, July 19. Starting around 9:30 from Guiche, direction our lunch break: Mont-de-Marsan. It is not very nice and we could have rain.

A little before arriving at Mont-de-Marsan we can see a factory running at full speed and a sign telling us that the campaign(=campagne in french) is 2km.

Arriving at Mont-de-Marsan, we see that there a lot of people and the main street is blocked. Garre and we are looking for information. You end up découvrire that if all this is due to the holidays of the Madeleine. From July 15 to 19, are celebrating the Montois from July 14 until 19, as a continuity. And during this festival, besides the music with bands, there are also competitions, meet authors, bowls and of course the bull ring, and the bullfight.
First, be aware that the bullfight is a bullfight with young bulls and young bullfighter (torero encompasses the various human participants as banderilleros, the matador, etc ...) . The corrida (bullfight as it comes) is a tradition Spanish dating at least to the year 815. A bullfight consists primarily of a Paseo (where parade participants in the arena) then comes the combat phase is divided into two or three parts. If bullfighting is called''stitched''then there will be a first part with picadores (men on horseback armed with pikes to evaluate the behavior of the bull). if bullfighting is not piqued, we start directly to the second part where 3 banderilleros each plant a pair of banderillas color (the banderillas sticks are 80cm long with a spear at one end and are decorated with colored ribbons). Then comes the third and final part in which the matador enters the scene, the bull is charging on his cape (the mullet) red and avoids the (usually) at the last moment. This part is called the charges''and dodging faena''(passes) and ends when the bull does not load the muleta. At this moment, the matador is loaded for the last time the bull and he is the final blow (the final blow) with his sword. But before the final blow, the president of the corrida may, if the bull was exceptionally good, waving a handkerchief and orange and let the bull's life. If the president come out a blue handkerchief at the end of the bullfight, the body of the bull made ??a victory lap of the arena not before going out the front door. After the matador welcomed the President raises his white handkerchief to bring the bull following.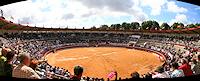 Towards the end of the first bout, the rain begin to fall and at the end of the first bull bullfight (corrida) is canceled due to rain that turns the arena into something approaching a swamp. Those concerned with maintaining the arena are a large tarp, but it will not help, the rain stopped and the arena is wet. This end food to our visit Mont-de-Marsan, a small photo of the empty arena before returning to the car and a picture of the statue in front of the arena. By sculptor Mauro Corda early measuring 40cm in bronze, is in an exhibition at the Museum Despiau-Wlérick in 1991, the statue called''Torero''draws the attention of the municipality. The city placed an order for the statue, but much larger, this new version that sits in front of the arena weighs 900kg and is made entirely of cast bronze.

We're back on the road during a while, we stop to make a sandwich and leave. Next stop: the bastide of Eymet. Built in 1270 by Alphonse de Poitiers, Count of Toulouse, the walled town serves as a lock between the French and British territories in the thirteenth century. The country house is a natural site of 16hectares in 1968. There is also the castle of Eymet which covers the northwest corner of the country house, built in the thirteenth century just before the creation of the mansion. The castle is named a historic monument to him since December 1994.

We leave this time and the next step is home to Brive. But on the way we meet some very special panels.


Before closing this last day of a week of reporting in the Basque country, I would like to say that I am neither for nor against bullfighting. It is a cultural and traditional events and people of Spain against bullfighting should also look for example cock fighting in France or horse racing or greyhound. Same for cow fighting in Switzerland. Just the bullfight and novillada are best known so it's easy to type on. But do not forget that the foie gras you eat for the holidays comes from geese or ducks that are force-fed. The main argument of the anti-bullfighting just cruelty to bulls. But is it not also the cruelty of force-feeding an animal? Or forcing an animal with hounds if it euthanasia? Or make an anorexic animal so that it run faster? Personally a bullfight does not bother me. Nor to eat foie gras for the holidays. If people want to discuss it, they can do on the blog related but this report is not to open a debate, just explain that if they rattle against something, we should not ignore the rest. Simple matter of logic.
And on that note réfléchire ends a week of reporting in the Basque country, where we discovered Bayonne, Edmond Rostand's villa, the Espelette pepper, Donostia and Pintxoak, the arena of Mont-de-Marsan.

Previous page