Previous page Next page
Tuesday, March 20, 2012: Today we are going to Concarneau and its walled city, Fouesnant and Quimper. No video this time.
Plant the sets: The Citadel of Port Louis, as explained in the video was built and demolished in part several times. It is part of the defense system of Vauban. The citadel, relatively well preserved houses désormée three museums: the company of india, National Museum of the Marine Museum and rescue / emergency at sea.




In the walled city is also the church of Saint-Guénolé with a very special clock :

After the turn of Concarneau ... it is time to eat. This time no green guide but a door with plates full of backpacker's guide ... is a creperie, ''The Pennti'' ... simply put : the best crepes / galettes I ate and far from expensive (7 € for a good galette is, I think, honorable). We can even discuss with managers without problems, very helpful and friendly when I pass by concarneau is obliged me to stop there again! In addition to their shutters are decorated with flowers and a garden where we can eat at the rear.

After a quick detour Fouesnant, we are in Quimper. Management of the pottery Quimper HB-Henriot. Unfortunately, the visit is no longer possible. So I make it up by visiting the store, asking questions about the manufacture, etc ... I learned that everything is done by hand, shaping the paint and it takes several hours to make a simple dish (which explains the high price ...). I leave with a beautiful painted plate under my arm.

We will then visit the Saint-Corentin cathedral has stained glass a bit special.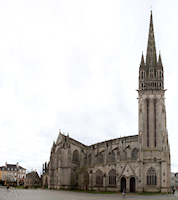 On one of the windows, you can see a ship guided by the North Star.

On another we see a man hold what could be likened to an iPad ... It would be far ahead of his time or a spatio-temporal traveler (Doctor Who?).

So the day ends. It's time to go, walking tomorrow awaits us!

Previous page Next page