Previous page Next page
Sunday, March 25, 2012 : We don't come back to Rennes but, we'll visit the Points, caps and bay on the road to return to Vannes. First stop : Locronan. And at first, the video :


We begin the come-back day by visiting Locronan with it's middle-aged britain's architecture especially at the center place with the old well and the St-Renan's church. Inside the church, the light is playing, throught the tainted glasses, on the rock that make a tomb. It's like in the 70's with the disco.

Next step on the path of Douarnenez. A name may not be well known today, but that was the focal point of the sardine fishing and canning (canning preserves) of Britain and France. Across the harbor are spread information about the history of the sardine fishing (and cans) course with its economic impact, but also tourism and ecological. Finding the first information panel (in four languages: French, English, Breton and Spanish (or German, I don't know)) just follow the ''nails'' brass having a form of sardine to fall on the next panel, etc. ... offering us the way a tour of the fishing port.

Gulls benefit fish remains or those fallen boxes to feed without too much effort.

Since it's Sunday, there's nothing open, damage, no sardines for us today. For lunch, it'll be a sandwich and followed the coast continue.
The rest of the day will be more savage peaks, capes and bays we can cross on the back. First, the Pointe du Millier.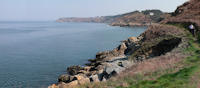 Next stop: the point of Beuzec with his house on the cliff.




Between the point of Beuzec and the point of Brézellec is a place with its beautiful rocky landscapes and grass ... Blue! (Blue but very sweet, a joy to walk in bare feet.)





Meanwhile, Aliwana takes the sun (and laying).

We then arrive at the Pointe du Van, beautiful cliffs where the strength of the ocean meets the resistance of the rock:

Between the point of Van and the Pointe du Raz: Bay of the Trépassés. Warm wishes for this stretch of beach between two rocky headlands cramped name.

The last point before returning constantly to Vannes: La Pointe du Raz. THE most point west of this report, then, is the Atlantic and the Americas (Spoiler: USA = report of October 2013!).
It's a bit like being at the end of the world (besides, ''Finistère'' means ''the end of the earth'' as what ...) with the ocean as an infinite horizon.
Pointe du Raz was known to be a difficult passage between the coast and the island of Sein. It then built the lighthouse Vella, a square tower lighthouse! Later came the semaphore Raz built by the Navy.
Behind the modern semaphore (the ocean side) stands a statue of Our Lady of the castaways in memory of all those who perished at sea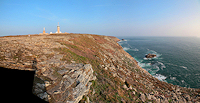 End of the day. Exhausted, we go to sleep and rest.

Previous page Next page