Previous page Next page
Tuesday, March 13, 2012: This morning, sleep late. In the afternoon, towards the city of Vannes. We start by passing to the tourist office to retrieve a map of the city and areas to visit. We begin by entering the city by the door Saint-Vincent Ferrer. Breakthrough in the wall in the early seventeenth century, it is lined by buildings since 1840, all size a semicircle which defines a part of the Place Gambetta. The door is surmounted by a statue of the patron saint of Vannes: St. Vincent Ferrer. It is there also the crest of the city: an Ermine (symbol of Britain) crowned with three towers (Vannes is a walled city) and framed by two greyhounds (offered by the Britons to the King of France (François 1st) at his time at Vannes in 1532).

We then head towards the tower Venelle Trumpet with sunken wall of the moat with a little water still flowing.

Back towards the door St. Vincent and the street you go back and namesake of narrow streets, the place des lices. Instead of the Strings, arranged in the fourteenth century, was formerly Lice (hence its name), which passed the jousts and tournaments organized by the Duke of Brittany. In an alley a candy shopping shows very pretty smiles-flowers, and sweets made of sugar:

It continues in the streets to get to the place Valencia, where the corner of a wood framed house a strange granite sculpture. Two characters of their hands amputated probably because of the time. This sculpture was perhaps an old sign. Representing a smiling couple, they gave it their name ''Vannes and his wife'' to the late nineteenth century.

Here then the St. Pierre Cathedral. Rebuilt in the twelfth century on the foundations of the old building that blends different types of architecture: Romanesque bell tower for the neo-Gothic facade and for the rotunda-like renaissance which houses the tomb of St. Vincent Ferrier. There is also the tomb of Saint Pierre Auguste Boussard. The stained glass in Britain often show Joan of Arc and St. Anne. Virtually every church in Brittany there is also a model ship (galleon type most often) in memory of sailors lost at sea

The town has many half-timbered houses and in some places you can still see the ancient wall of 3m thick! There are also some special decorative.

Then we go out of town to see the gardens between the walls and Marle. The gardens ''to the French'' have made summers in 1950 as part of a redevelopment Heritage Vannes.




A little further back towards the gate of St. Vincent, we see the Laundries. Built between 1817 and 1821, they are part of the heritage of the city. The building was restored in 2006.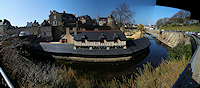 Back at the Porte Saint-Vincent, we take a Kouign-Amman ... a cake made of sugar, salted butter, salted butter, sugar, salted butter for flavor and a little sugar to sweeten... and a little flour to bind it all! In case you still doubt, the Bretons like salted butter, I feel that there are in all the dishes.
After visiting Vannes, we will take a little tour of the island of Conleau, south of the city. This is a small island that houses a few subdivisions and aquarium valves. An old house is also home to the house of Nature and a dike valve can fill a swimming pool and so avoid being left without water during the ebb tide.

As we are close to the ocean, there are many sea birds. North of Britain there are puffins, if not everywhere there are cormorants, gulls (there are two species), gulls, egrets and many other species. There is an egret looking for dining at Conleau at low tide.

A small picture with two different treatments to end the day. It is a wreck of a wooden boat, probably for the oyster as the wreck is just in front of a park oyster.

The day ends and we have a call to go for the next day to see if a certain person agrees that we accompany him.
Previous page Next page