Previous page Next page
Tuesday, August 21, 2012: plunge us into the land to discover the Catalans's Jewels and for a moment followed the coast to eat anchovies.

From Port-Barcarès, we descend along the coast to get to Perpignan and we turn towards Prades. But first, a short stop in Elne to visit the Tropique du Papillon. It is a bit like the Papiliorama of Chiètres but smaller, more... friendly. On the road, we cross some nice landscapes.

After spending a good 30 minutes trying to shoot butterflies and chatted for a moment with a lady who runs the Papiliorama a small bookmark with 3D butterflies in the bag, we leave. After a bit lost to find the right path towards Prades.
Prades, a small town of 6,500 people has a very special museum: the Manufacture of Garnet. The Catalans Jewels, jewelry based on a semi-precious stone: Garnet. In this workshop, all trades are grouped. Founder of the jeweler through the crimper, it is a total of 6 trades who work here in the traditional way to create beautiful jewelry made from gold and garnets. Garnets are set from a region-specific manner. The garnet has a flat rather than a diamond shape and a gold mirror is placed below to reflect light passing through the garnet. This arrangement gives the impression that the garnet have a small fire in his bosom.

It has eyes that shine out of the shop filled with beautiful jewelry, but we must think about eating ... or not? Way back towards Collioure! But on the way stands a hill crowned by two buildings. Neither one nor two, out of the county and presto, you climb! Collioure towards yes, but a detour through Força Réal. It is high and it's hot, fortunately we do not walk to the up... except the last 30m of elevation. Mount has two ''peaks'', on one with a small square, a viewpoint and a church :





And on the other hill, there is a fire lookout station. A watcher and 2 mobile guards who kindly accepted to pose in front of the landscape they protect and in front of their patrol vehicle (and the monitoring station). In the distance you can perceive Perpignan.




along the coast to get to Collioure, near the Spanish border. Collioure, a border town between France and Spain, it has a fortress which served as a garrison for centuries. The city also Fort St. Elmo, the Royal Castle and the Church of Our Lady of the Angels. The church has several features to begin with, built in 1684 and finished in 1691, it was stuck at the lighthouse in Collioure. This lighthouse later became its steeple. Crowned by a dome inspired by the Tuscan church, bell tower and the church itself is built ''on'' the sea.
But first ... EAT! Thanks to the Michelin Green Guide (between Britain and the South West .. it is decidedly handy this book) we find a restaurant very close to the bay of Collioure (you can see the Royal Castle from the terrace). This restaurant (Casa Leon) specializes in fresh fish. Neither one nor two, stomach crying famine, we can have a table on the terrace and we order. For my part, it is a fisherman's dish, grilled prawns with spices and cream Catalan dessert. (It is 00h41, and thinking about that food makes me hungry ...) The food is excellent, not too expensive and with a little rosé, sun above us, the thermometer at 30 ° C. .. it's like a holiday !
I stop salivating at the moment and leaves room for pictures of the inside of the church, colorful fashion Colliourenc boats and the Bay of Collioure :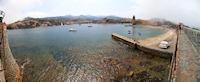 Looking out to sea, we could almost imagine dark spots towards the horizon, like in the film ''The Longest Day''.

After eating well, towards a local craft product of the sea Well known, the anchoie! But beware, not of anchovies shops, all fat, so salty that it seems to swallow the salt and stuffed with edges that get stuck between the teeth in the tongue or in the gums! No, those are thin, boneless, very little salt, low-fat and downright delicious. At the workshop Roque Collioure, anchoie is prepared by hand since 1870, the shop-window above the shop is visited ailleur (free) and you can see how the anchovies are prepared, discuss with women prepare thread (there is they can do that, men in front of take care of the fish and prepare salted anchovies and men do not have the right to prepare fillets anchovies) and even taste. This is where I discovered what it was like to eat Anchoie True. The difference is really huge between this workshop and supermarket ... I also discovered Roquerones, the white anchovies marined and vinegar prepared. A little softer than normal anchovies it is on them that I have set my heart (and a 750g pot of trying to survive in my fridge now ... but it is a waste, it's so good!). In the store, there are obviously anchovies in pagailles (even buckets of 5kg) but full of products based anchovies.

And as we close Rivesalte ... There are of course the Muscat-said village. Same as for anchovies, you can see the difference between local crafts and supermarket ... I took the opportunity to buy a Pourou.
A pou ... what? A Pourou, that :

This is a glass jar with 2 cols, one to drink (all fine) and the other to complete. Native of Aragon and Catalan country, he was, at the base, used to reduce alcohol consumption. The result was just the opposite, taking it as a game or a contest, is used Pourou outstretched arm. The goal is to drink alcohol trickle out of the small spout without spilling and with the arms stretched above his head. The Pourou is not only prevalent in the Catalan region, but also in Spain, under the name porrón. But where will a Catalan Muscat, a Spanish wine in his will Pourou.

After Pourou and Roquerones a new discovery for me urchins.
Having visited Collioure, we go a little to the beach to Racou Argelèse-sur-mer before returning (it starts to get late). At the southern end of the beach there are rocks (it's a beach pebbles) and there are a few people (many children and snorkeling to observe aquatic fauna). Some children have nets and small knives and this is how they will look with sea urchins. In exchange for the opportunity to take some pictures of their fishing, I lend my knife to a group of three children.
Sea urchin fishing here is limited to 3 per person urchins per day, only to apnea not make them disappear by overfishing.

Sea urchins can be eaten raw, but there is really not much to eat, maybe 3% of its total mass. After collecting a sea urchin, it must be open in two, clean as would deprive a fish but leaving thin strips glued to the orange shells. Thought and nature, it made me think of coral shell Saint-Jacques. It's not bad and I think with a little lemon it would be perfect.

It is with a sea urchin in the stomach (not much somehow ...) we hit the road for home, a meal in bed, I'm exhausted. But at night, small beetles are bumping into my shutters and hear mass ''Tonk'', ''Ping'', ''Ponk'' all night ... it's a bit boring. But hey, tired, I have not heard for a long time.

Previous page Next page