Previous page Next page

Friday, October 11, it was our last night in Vegas. This morning towards Furnace Creek for lunch via Death Valley Junction with the Amargosa Opera. To arrive at this first stop, we 160km to... let's go for some photos taken during the trip:

Death Valley Junction: the panel announces 4 people. DV Junction became a ghost town and into the 1980s, the phone always ask an operator because there was no issue with code available for this small almost deserted city. The important point is the Amargosa Opera House and Hotel. A former opera theater where Marta Becket has performed on stage and as a mime from 1960 until his last show in February 2012. First contact for me with a ghost town and we feel this atmosphere of desolation, emptiness and abandonment. Especially we are at the gates of Death Valley!

After this short stop at the entrance, we are in front of the panel Death Valley National Park with its empty landscapes and hyperarid :

We are in the famous Death Valley, it is hot, dry and empty. Our stop photos at Death Valley is called ''Zabriskie Point'' in honor of Christian Brevoort Zabriskie, vice-president of the Pacific Coast Borax Company, which operated the Borax in this area. A film (Zabriskie Point) is also partially shot in this place and others in the Death Valley in 1970. This place is made of ash and sedimentary gravel and magnificent colors, whatever the light of day. The canine rock formation is called ''Manly Beacon'' and training of flows are Rill.





I was trudge on board to take some pictures (including 2 panoramic) and a sign told me to pay attention to the fall. Indeed, soil is very friable, one can very easily fall with the edge collapsing under our feet.

Lunch time fast approaching, we set off again for Furnace Creek. -58m below sea level, 16 inhabitants, the reccord temperature: 56.7°C, July 10, 1913. That's what Furnace Creek and wears its name well.

3rd stop at Valley of Fire: Museum Valley of Fire. With information about the flora and fauna of the region, the geological formations. Various zoological discoveries, biological, geological and paleontological. Unfortunately, no pictures of the museum, but photos of the area. (Will you take a little red rock?)

Back on the bus to trot after mini digestive walk and we cross the Valley of Death. Fortunately, the bus is solid is not fail, it would have been the cat saw the place where we are. It's so hot that the road is distorted, ditto when there is, from time to time (very rare) a mudslide. The white part on the 2nd picture is not snow or ice or water but salt, a large expanse of salt.

After lunch, head to the Strip... south to the north. We leave our hotel in taxi (outch the price ! ). We start with the giant MGM lion :

The road is long ... 425km to finally cross the Death Valley and arrive at our motel in Bakersfield evening. Except... we have a very interesting stop at the half-way...

We leave the road taking on the left, an old paved road towards Darwin... Not the one who wrote the theory of evolution, but... a ghost town. (Scoobidou, where are you?)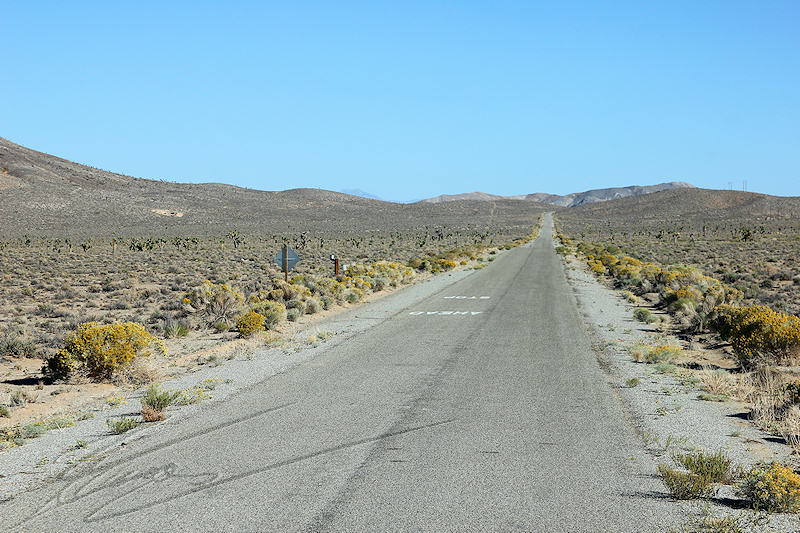 Around us, there are quite specific plants. It looks like cactus, but it is actually Joshua trees. They are living trees between 600 and 1'800m altitude, almost exclusively in the Mojave Desert. In a slow-growing (10cm per year), the trunk is made ​​up of small fibers, as a great grass. It has therefore not as rings for growth usually trees. It can live up to 200 years, but rarely flowers. Indeed, for him to go flowering requires a cold winter and a certain amount of rain at the right time. At this point, flowering can occur (there may be a Joshua tree does not bloom for several years suites) but the tree to provide seeds, it must be assisted by an insect. Not a bee as by us, but by a butterfly: butterfly Yucca, Who will spread the pollen of the plant by laying its eggs in the flowers of the tree.

We here in Darwin. Former mining town for silver and lead, it is now a ghost town. Where previously there were just over 2,000 people, it does not even rest 25 today. Many abandoned vehicles of any kind (a Renault Dauphine, a ladybug, a... ''thing''... made ​​of bits and pieces, but still rolls) houses. We feel that the city is no longer inhabited by the wind and dust, apart from the handful of people remaining (for the record, a couple from Aveyron in France came to be installed for calm and so they can continue to do their quiet sculptures). Here, no noise, dog car, children playing, all those little noises that make a city alive. Here, we hear only the wind that passes, the sand moves and the silence of the desert.

I do not know how long we stayed in Darwin, probably a little less than an hour, but it is a place that struck me...

Back in the bus, we hit the road towards Bakersfield. A brief stop to buy dried buffalo meat and go...

At an intersection, I want to make a little fan-service for Alien worshipers: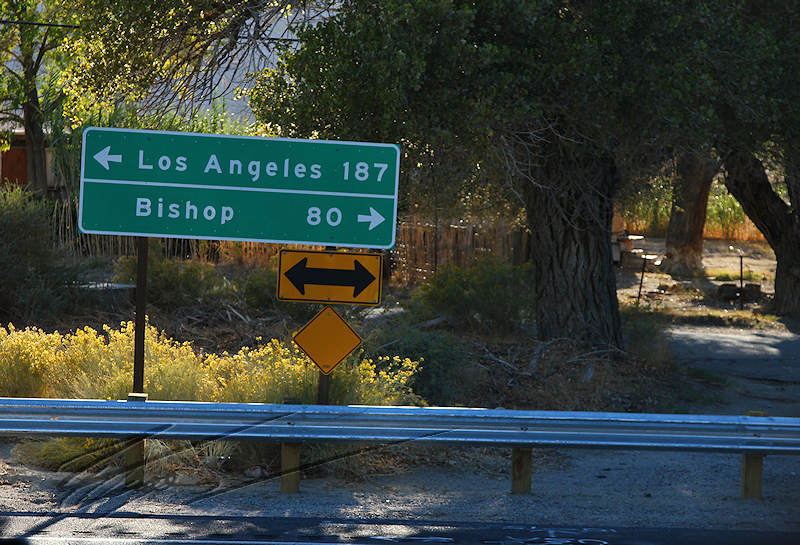 We continue to roll and the night begins to fall, giving us, again, beautiful colors of the sky.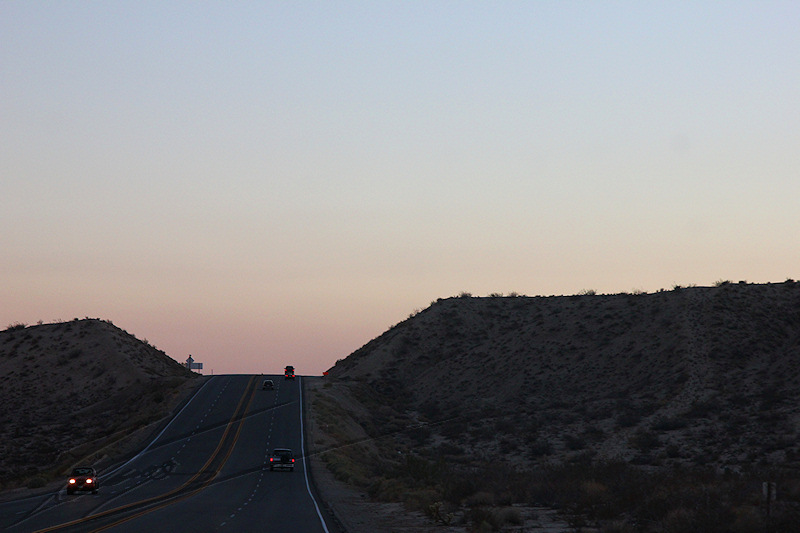 It's 19h and here we are in Bakersfield. Before stopping at the motel, we will eat at an Asian restaurant buffet (Sakura). There are good things, though it does not happen at the Asian restaurant buffet at Brive (the one on the road to Bordeaux, behind the Citroën dealer). After having eaten in bed! For tomorrow, we will have the way to go.

Previous page Next page