Previous page Next page

This morning, breakfast at home and we take the road quietly for the natural park of Cabo de Gata (-Níjar).
Declared in 1987 the country's first maritime-terrestrial natural park, it covers 29,000 hectares of volcanic and sedimentary rocks. Unesco even declared it a biosphere reserve in 1997.
There are quite a few people on the road. People go to the beach! Given the slowness of our advance, we take the opportunity to look at the vegetation. There are a lot of these weird plants. Sam explains to me that they are Pitas, American agaves. And that this large stem which can make up to 8m is in fact their one and only flower of their life. Once the plant has flowered, it dies. And here once the plant dies, we recover the flower and its ... trunk ... to make decoration.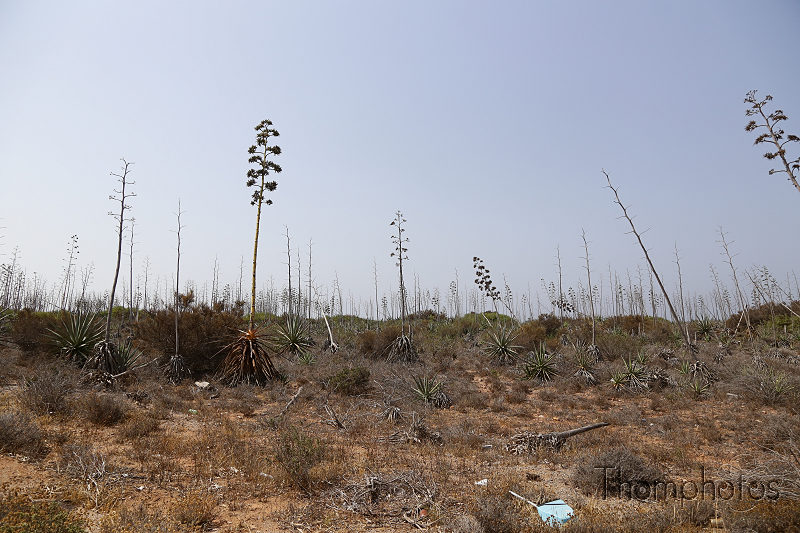 We see plenty of them during the trip. And we also see that the beaches are well occupied by people who have come to enjoy them. Sam explains to me that people from here come to these beaches because they are very pleasant and less known to tourists.

We arrive towards the lighthouse of Cabo de Gata and we find a place to park. It's hot, very hot. And we dart valiantly into this furnace of rocks despite the sea below.

After a while, we find a passage to reach the black sand beach (because of its volcanic origin) where some families are already having a good time.
Here is also a volcanic formation called Orgues, or basalt columns because of its shape. Training analogous to the famous Chaussée des Géants.

Dying hot, we decide to return to the car, our water bottles are already hot and we are dripping, literally sweating. Did I ever tell you it was hot?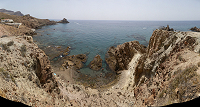 On the way back, we overlook the calanque of sirens. (Where is a man in a special swimsuit, giving him the lower body like a mermaid.)

Returning to the car, we run to the water left in the cooler. It does a lot of good. Given the time, we head to the restaurant next door. Lack of luck, everything is full. So, what do we do now ? Sam offers to return to the Montaditos. Immediate U-turn for the car, the montaditos are waiting for us!
On the way back, we make a short stop to take pictures of the salt marshes with the flamingos, and the church enthroned in the middle.

Montaditos ! Mug of fresh cider, fried mayo with truffles, full of delicious montaditos ! Eaaaaaaatiiiiiiinnnnng !

Once full, when I leave I see a toy distributor with a funny name.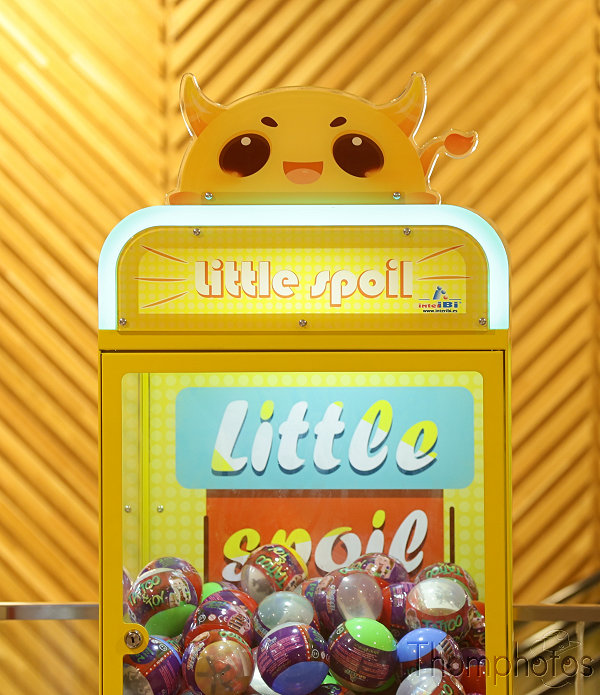 Well, the visits these days, the heat and the meal have drained us. After rest and swimming, after the heat of this morning it feels good, it relaxes and refreshes us. It's very nice.
The day ends quietly ...

And we go back to sleep without having eaten too much considering what we had put on this early afternoon.

Previous page Next page