I had hit two words in the test on the Canon EOS 5D Mark II, now is the test ''to every day'' of the Canon 24-105mm f/4L.
Features of the Canon EF 24-105mm f/4L IS USM
Parameters
Values
Mount Type
EF adaptable on all Canon DSLR with the same type of bayonet
Category of the lens
Zoom trans-standard
Focal
24 to 105mm zoom (equivalent 24x36mm sensor) (4.3x zoom)
Aperture
Minimum F/4, maximum F/22, Constant F/4 at all focal lengths
Optical stabilizer
Yes, 3-speed gain
Autofocus
Yes, USM ultrasonic motor ring
Minimum distance of focus
45cm at all focal lengths
Lens coating
Super UD lens element (anti-chromatic aberration, anti-flare),
aspherical lens element (non-spherical aberration, reduces distortions)
Diaphragm
8 slices (almost round bokeh)
Filter diameter
Ø77mm front
Maximum size
Ø83.5mm x 160mm
Weight
670g
Construction
Tropicalized
The 24-105mm since I bought it with the 5DII, I used a lot. The default is one that is always mounted on the 5DII. With him I'm about half of my photos. Whether landscape, macro, portrait, reportage, that's my goal to do everything. For in addition to having a focal length ranging from 24 to 105mm, the aperture is constant over the entire range of focal lengths, f/4.
F/4 is very useful in quite a situation, even if it is not extremely bright (as F/2.8 or F/1.4) is not F/8 either. it also helps to have a depth of field just enough to clear the subject of the portrait in the background as well as macro. Yes yes, macro. This objective has a ''macro mode'' that provides a minimum distance of 45cm development. Mounted on a 5DII and by focusing a bit, we can easily make beautiful pictures without necessarily getting too close proximity of the subject (and frighten) as this: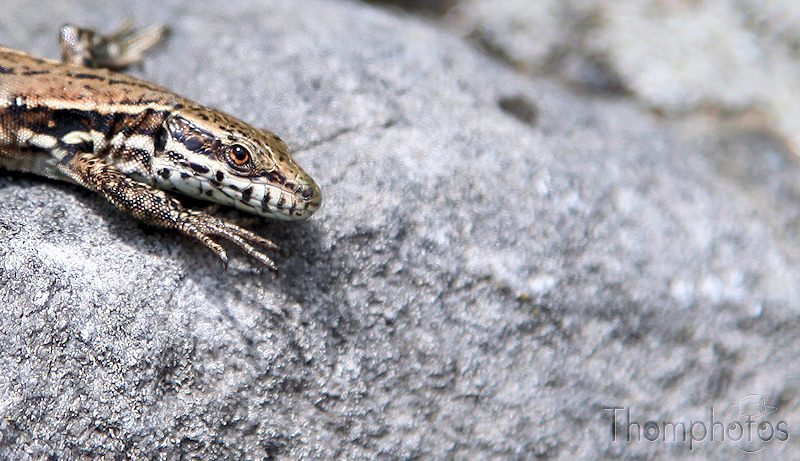 The focus USM is really fast and quiet, there is only triggering it makes noise (from the camera body).
The fact that the hood is provided with the objective is a very good point, to protect the lens (although I have a protective glass in front of the front lens that is visible on the first photo) but also to reduce still the risk of flares caused by light sources.
Moreover, even with the hood mounted upside down, the goal, ''pebbles'', is not very heavy and it is still quite compact. On a 5DII it is very well balanced. But on a small light camera body like the 450D is rater different (without being too out of balance than with the larger 150-500mm from Sigma) and was the impression that the objective is the camera body rather than the reverse. But it is a bit heavy, it is because of its high optical quality and weather resistance. This is not an objective with plastic lenses. They are made of glass and the body is metal. it allows him to take much to shock, friction, splash. There is little that during a heavy rain, with the front lens, which aimed the sky I had a little problem: the AF stopped working. In fact, the frontal lens was so obstructed (rain) that the AF was inactive. After a quick wipe it working again without worry. It is mainly with this objective and the MPE 65mm and 150-500mm from Sigma took the On a 5DII has the most impact. The objectives also works very well. no problem to report.
In the black spots, I still have to admit that I feel it takes a little dirt anyway (but it remains outside the target) when the lens zoom and is extending a little (just 3 cm). I also note that there is some perspectives distortions at 24mm. And the price... but hey, it's always a black spot price for it always shook too much. Even if for once, the robust construction and its very good optical quality make this lens L series (the famous red ring) is worth its price. At least for me.
This little test of the Canon EF lense 24-105mm f/4L IS USM is now complete and I hope it will have been useful.